"…joining things is about building up the emotional network you need to make it for the long haul. It's about finding your tribe of artists who will get you through the dark times."

-Jenna Fischer
In the first chapter of The Actor's Life, Jenna Fischer talks about the importance of joining things, of being involved, creatively, with a group of other actors and artists. She talks about when she first moved to LA, and spent most of her time in her apartment, submitting for auditions, watching movies, reading plays, and basically just waiting for opportunities to knock on the door. But once she started going out and joining things, and being involved with other artists, her career and her life in general took a much more positive, successful turn.
In the year that I've been in New York, I have joined a couple of things: the Write Now Workshop was the first thing I joined, at the suggestion of my good friend, Sarah Teed. Joining that workshop allowed me to explore and help develop new plays, as well as find a new headshot photographer, and perform in a play that was written and directed by one of the playwrights in the workshop. In April, I took the Acting Business Bootcamp with Peter Pamela Rose, and joined a tribe of fabulous Baby Bears who, through our Facebook group, and other face-to-face encounters, build each other up and encourage each other every day.
I found each of these communities in a pretty serendipitous way. Sarah, who I hadn't spoken to in years, invited me to attend an improv show with her, then told me about the Write Now Workshop that was starting its Spring Season the next day. I had dinner with a family friend, Sheri Bylander, who told me about Loop Group, and got me in touch with Jason, and when I was talking to him, he told me his wife, Peter, was having a Acting Business Bootcamp that very weekend!
Although these two communities are beautiful and wonderful in their own ways, they definitely have their drawbacks. The Write Now Workshop, though great for exercising my Cold Reading skills, is really geared more toward the playwrights, so I get little to no feedback regarding my own performance. The Baby Bear Tribe of Peter's has a great online presence, but we don't meet regularly to encourage each other or perform, and I am someone who needs to be in the physical presence of other people.
So, as I was reading Jenna's words regarding joining things and finding a community, and as I was re-introduced to them when my good friend, Liz, posted them on her Instagram page, I started to realize that I hadn't yet found the creative community I want or need. Please don't get me wrong: I LOVE my fellow Baby Bears, and when we DO get together, it's a great time! And I enjoy the Write Now Workshop, because it gets me out of the house and involved with other humans! But I still need a community, a group, a class, that I can go to on a regular basis that will allow me to foster my creativity and hone my craft.
Which leads me to this week and the crazy serendipity that I experienced.
As you know, last weekend was Kendall's and my New York Anniversary. To celebrate the occasion, we decided to go out and explore the city a bit, including going back to our original NYC home – the basement apartment in Queens. So as we were walking to the Q train, I looked over to my right, and said, "I've never noticed that building before!"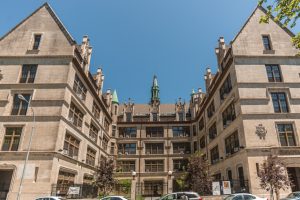 This castle-like structure is, I think, quite lovely, and I was surprised that I had never seen it before. Then, yesterday, I received this photo from Kendall: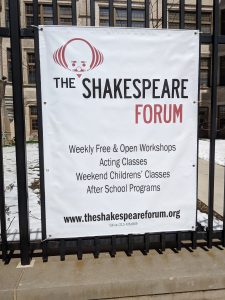 He told me this sign was "in the building you said you hadn't noticed before on our way to the Q the other day." So, I checked out the website, and as it turned out, they meet every week on Tuesdays and Thursdays. So here is a group that meets regularly, that is focused on actors, and that won't charge me anything to participate! I went to the forum last night, donated the suggested $5, and I was able to watch 4 fantastic actors and finally perform myself! I got great feedback, had a lot of fun, and, most importantly, felt welcome. They told me that it was highly unusual that A) I came to the forum as soon as I heard about it, and B) I wanted to work my first time there. Apparently, it takes most people a few months to decide to go to The Shakespeare Forum, and several weeks of quiet audience participation to decide to perform. But I was itching to work, so I did. And I'm so glad.
Kendall told me later that he saw that particular sign because he just happened to decide to take a different route home than he usually does. I can only imagine what might (not) have happened, if he had decided to stick to his regular walk from the train. Praise God for directing our steps.
Speaking of the Big Man Upstairs, I had another fortuitous encounter this week!
I was going through old notes from seminars, trying to organize myself, and I found a note regarding the Fellowship for Performing Arts here in New York. So I reached out to see how I might get involved (still trying to join things), and the lovely woman who responded to my inquiry gave me the contact information of a woman who, like me, is a Christian Actress, and has started a group called "The Hang." The Hang is a community of Christian artists, mostly actors, who gather twice a month for Bible Study, and also have different professional-development events. I had dinner with her on Tuesday, and tonight, I'll be attending a Dance Class followed by Bible Study. How encouraging to find a group where I can grow in my faith as well as my career, and I can encourage others to do the same!
It's funny how, since we got to New York, every time I need a place to go or a thing to do that will keep me creating, it finds me. Praise God for serendipity. I am looking forward to where these new-found communities will lead, and regardless of any professional perks and jobs these communities may result in for me, I am glad to have found (at least I hope I found) places where I can explore, play, and encourage others.
**Disclaimer: I am a participant in the Amazon Services LLC Associates Program, an affiliate advertising program designed to provide a means for me to earn fees by linking to Amazon.com and affiliated sites.**